So several weeks ago we published a blog article in which we discuss the future of work. Today we would like to share with you our tools that help us achieve our collaborative goals and make a better custom software development team.
Our team consists of humans, mostly software developers, collaborating from the US (Chicago), Israel, Venezuela and Mexico, but some of us keep moving so here's what we use to manage information and projects, to offer support to our clients, to keep in touch, and to reinforce our collaborative ideas and vision (psst).
JIRA: project management & communications
JIRA isn't the acronym for something fancy, it's actually from "Gojira", the Japanese name for Gozilla (yes, this Godzilla; and yes, the one Jean Reno is asking about).
JIRA is a software development issue tracking product by Atlassian. Our developers and project managers use it to track bugs, issues and progress. Our clients use it to assign to-dos and report problems.
This software has a cost (based on amount of users), but Atlassian provides it for free to open source projects that meet certain criteria, and to certain types of organizations.
Humans like it because it's very customizable and flexible, it has great support from Atlassian and from the community, because there are hundreds of plugins available for it, and because it can handle multiple projects.
CONFLUENCE: project documentation & knowledge hub
Confluence is another team collaboration software by Atlassian, but this one doesn't have a cool origin for its name (that we know of). Confluence is like a wiki for corporate environments; its main use is to discuss ideas, define requirements, report on projects, run retrospectives, publish documents.
Confluence has also evolved into an integrated collaboration platform that has been adapted to work with JIRA, so that's another reason why we love it. We also use it for project documentation and as a knowledge hub. So… like a wiki that sometimes wears a tie. It allows us to have one source on the cloud the contains both the documentation for a software development project and it links directly to the tasks themselves.
INSIGHTLY: loving and easy to use CRM platform
Getting more business and keeping our customers happy is as you can guess very high on our to-do list. Insightly is a handy and user friendly CRM that helps us to that. It's thought for small companies and it can hold from 2,500 to unlimited records. It covers features like contact management, task management, lead management, calendars and deadlines, and it's special because it integrates with Outlook, Google Apps and Evernote. Their mobile app works too.
We started using it because of our plans to engage more with our community. We synced Insightly with our emails so we can archive and tag conversations and contacts, so that everyone in the team can see the notes attached to each contact, and to organize new leads. They also just did a redesign and it looks so posh.
BASECAMP: favorite project management tool from 37signals and from nostalgia
I was going to write that Basecamp is simply the favorite kid for project management out there, but its website already says that. You've heard of BC because it's a 37signals product, because it's the preferred project management tool thanks to its simple and direct interface, its ability to keep track of every issue in a project (that you can archive and keep forever) and its capability to assign to-dos, deadlines and reminders to team members.
We use Basecamp for both  internal projects (which are very wordy and deadline-based) and as a collaboration and project management tool with our customers for our software development projects. It's intuitive, easy to use and makes it easy for to collaborate.
Side note,  I'm the queen of to-do lists (per week, per person, per month, per project, per subject…), plus its calendar can be synched with iCal so I always know what's going on. Its best attribute, though, is still the facility to get a conversation started and get emails (which you can reply directly from your email client) every time someone posts a comment. Also, Basecamp was born in Chicago, like us.
TOGGL: time traveling. Just kidding, tracking
Toggl is a simple time tracking tool and free timesheet alternative and that is all true. Most of our projects are billed hourly, so tracking the time spent on different activities is important and annoying, but Toggl makes it easy for us because it's simple, it has mobile and desktop versions, and it works online and offline.
Everyone on the team uses it for the same purpose, and we've personalized it to create projects (internal, external) and tags. What's even more fun is that I just found a bunch of possible Toggl integrations with other tools we use, here.
GOTOMEETING: virtual conference room
Everyone in the entire internet has been testing tools for conference calls; it's hard to stay loyal to a brand, but Citrix GoToMeeting has been so good to us. We switched to GoToMeeting because Skype and Hangouts can't handle our needs to meet with multiple people at once, or share screens easily in a reliable way.
Extra perks: muting others, recording meetings, assigning passwords to meetings (if you're inviting a client to join, all they need is the password), getting an email (and reminders) when a GoToMeeting has been scheduled (or is coming up).
SKYPE: instant messaging
This is what Skype skype.com is good for besides LDRs: quick messages, quick calls, quick calls between 2-3 people and long distance relationships.
Skype has given us so many headaches with its multiple interface changes and useless additions (like the music thing or the Facebook integration), but it's free and calling internationally is awesomely cheap (adding credit is easy and available within seconds).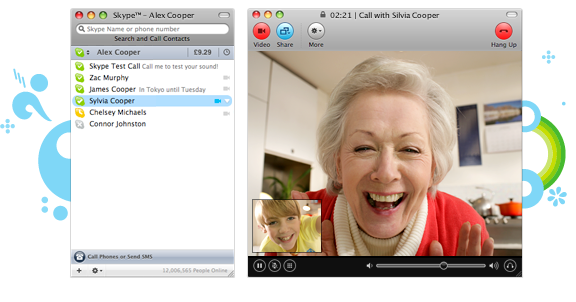 We use Skype every day from our desktops or phones, for free, or to call each other when traveling. I don't know teams which have Skype Premium ("group video calling and unlimited* calling to mobiles and landlines in a country of your choice**"), probably because of those asterisks, but Skype is still our favorite to keep track of everyday conversations.
To have us start using these tools on your project, click here