Is Chatbot Right for Your Business?
Advancements in artificial intelligence, along with the proliferation of messaging apps like Skype, WhatsApp, and Messenger, are fueling the development of Chatbots — software programs that communicate through a chat interface. These AI can carry out any number of tasks, from scheduling meetings to assistance in clothing purchases.
Around 80% of internet users in the US are expected to make at least one online purchase this year with ease of access as a key factor in buying decisions. Not only can Chatbots streamline the buying process but innovation has also made them accessible to a wide range of businesses. So what other benefits are there and how can you determine whether a Chatbot is right for your business?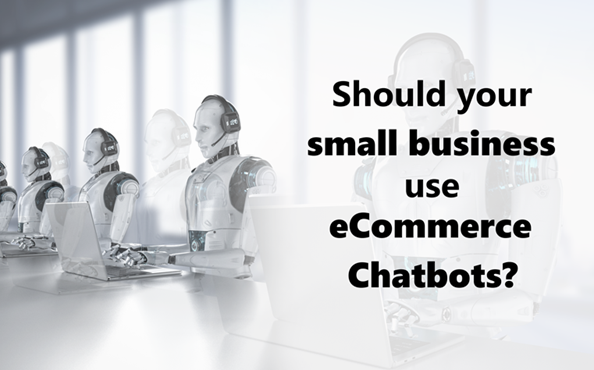 Foreseeing a real and sustainable potential in recent years, businesses continue to heavily invest in the bot economy. There are already several household brands and publishers who have deployed Chatbots on messaging and collaboration channels. They are now used regularly throughout multiple industries from airlines to e-commerce and healthcare services.
The idea of building an AI to communicate with customers might seem counter-intuitive when modern communication, social media, and marketing techniques focus on (human)interaction and building relationships. Most Chatbot technologies wouldn't pass as humans and more importantly, don't try to. The main benefit of using a Chatbot is that it makes communication quicker, more consistent, and more effective. A bot can answer questions from potential or existing customers anywhere in the world at any time. You may think that the FAQ section on your website already does this job well. However, it cannot provide many crucial features such as ease of access and consistent engagement. A Chatbot allows the customer to ask a question and get an immediate answer. It can also qualify potential customers and increase engagement while gaining insight through user data.
There are two main types of Chatbots, command-based, and AI-based. Command-based Chatbots are simpler with a range of pre-programmed responses to frequently asked questions. AI-based Chatbots are designed to understand and interpret customer responses. The right type of bot for your business will depend on whether you want it to provide standard information or more detailed guidance and interaction. The most common uses for Chatbots are in lead generation, sales, and customer services.
A Chatbot can also automate the process to provide information more quickly. Drift's "2018 the State of Chatbots" report reviewed research from InsideSales.com and the Harvard Business Review to find that even a ten-minute delay in responding to a new lead can decrease your prospects of qualifying the lead by 400%. A swift response can link seamlessly with the sales process.
A Chatbot can also ask questions and advise on suitable products. Sales or customer service teams often receive the same types of queries. You can bypass these with a bot so your teams can focus on other details or even closing leads. A Chatbot can be programmed to provide answers to frequently asked questions so that only more complex queries need to go through to a human customer services agent, saving on time and costs.
Chatbots Magazine estimates that a fully functioning Chatbot could reduce costs by as much as 30%. It's worth some serious consideration but ultimately, your decision on whether to use a Chatbot will need to be subjected to financial analysis.
Alternatively, there are several ready-made Chatbot platforms that can be customized. But you can build your own, either as an app or as a pop-up chat window on your website. Your own Chatbot built via custom enterprise software development has the advantage of controlling the functionality and the flexibility of adapting to the platform over time. However, it's worth remembering that Facebook Messenger reaches just under 50% of all mobile phone users in the US with engagement rates that outstrip email marketing by up to 80%. If your audience already uses Facebook Messenger it enables you to provide them with information using a familiar interface.
Do you need help deciding whether a Chatbot is right for your business? If you need guidance on developing the right Chatbot system, our experts are here to help.