What is Azure Virtual Desktop?
When looking for a centralized, flexible, cloud-based virtual desktop interface (VDI) platform to improve your office workflow and optimize your business with a secure, hybrid workspace, Azure Virtual Desktop (AVD) is the answer. Azure Virtual Desktop (formerly Windows Virtual Desktop) is the most reliable cloud-based solution for promoting a seamless and productive atmosphere no matter where your employees are located.
In this post, I will provide an overview of Azure Virtual Desktop and its definitive service advantages so you know how and where to start.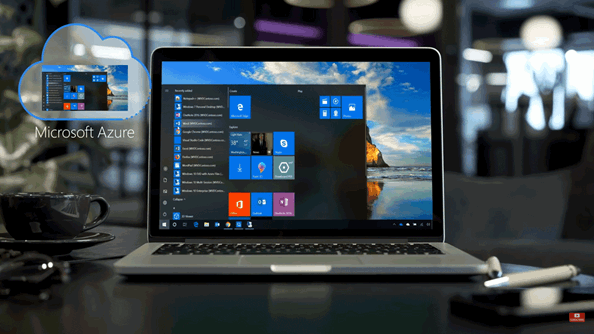 What is Azure Virtual Desktop?
Azure Virtual Desktop is a virtual desktop and app service that runs on the Azure cloud. In other words, it is a new way for anyone to have a Windows 10/11 based virtual desktop environment that is operated on a remote server. Through this virtual desktop environment, you and your employees can easily access applications and data from any device and from any location. Access to each desktop is controlled by conditional access protocols, including multi-factor authentication. Azure infrastructure can be deployed to enable role-based access control (RBAC) and detect threats using Azure Security Center. This technology ensures that remote workers don't necessarily need a physical space to stay connected and your data can be accessed securely so work remains productive and uninterrupted no matter what happens.
AVD came out of a decades-long Microsoft journey that became fully realized in 2019 as Windows Virtual Desktop. It was recently re-branded this summer as Azure Virtual Desktop (AVD). It is likely to not remain exclusive to Windows, whereas Windows Virtual Desktop certainly implied that. This means that other desktop OS support (e.g. Linux) could possibly be introduced for AVD in the future. The Windows 10 multi-session OS will not likely become available for on-premises or other cloud deployments either.


Why Your Business Needs the Azure Virtual Desktop:
Azure Virtual Desktop is a game-changing solution for businesses throughout all industries! The field is level across the spectrum and data access is completely secure in the Azure cloud. Finance, education, commerce —whatever type of company you run, chances are that if your brand requires a private and secure way to stay connected and share data and/or applications, then AVD is a good fit for you. In essence, sensitive company data is never transferred out of the company's control structure because any data transfers are contained securely in the Azure cloud. Azure Virtual Desktop is a vital resource that provides usability, capability, and stability for any size of business. 
So, what exactly are the best features of AVD that make them the best option when compared to other virtual desktops?
Azure is quite simply affordable, flexible, and easy to scale.


Simple Set-Up
Your employees probably have a wide range of computer literacy. While some might be tech-savvy, others might remain stubborn proponents of the dial-up age. Either way, the familiarity of Microsoft 365 across the spectrum means introducing new software doesn't have to be a challenge with the Azure Virtual Desktop. Management is easy to achieve; monitor performance, assign users and create settings all in a single space.


Cost-Effective
When running a successful business, budgeting is essential. And while investing in high-quality products is smart, affordable technology with high-quality results can save on spending. After all, why spend more to get a less effective product when the Azure Virtual Desktop can revolutionize your workspace on a budget. Only pay for virtual servers when the virtual desktops are on. Increase productivity (and therefore, profit) by keeping constant access to files and applications.


Scalability:
Azure Virtual Desktop is perfect for any size of business. From small to medium-sized businesses up to major corporations, these services can be scaled to suit the intended remote and onsite workforce. Users can be increased or decreased without penalty. This means that you don't have to worry about under or overuse of your resources ever again no matter what changes may come.


High Flexibility:
You get to decide what your employees get with AVD. It's easy to select what applications your workers can access and manage users with no contractual agreements! At a time when security and agility are keys to performance and growth, you can deploy virtual machines configured exactly how you need them to be, that are securely instanced in the Azure cloud. Keep your company hassle-free with a virtual desktop system that can be specified to your business while sensitive data is protected by all manner of built-in security protocols.


What Your Business Needs to Make the Most of Azure Virtual Desktop:
Azure Virtual desktop is available through the Microsoft Azure Portal. Current subscribers to Microsoft 365 and enterprise versions of Windows can access desktop versions for each user at no extra charge. Non-subscribers will have to pay a subscription fee determined by the specifications of the virtual machines for each desktop.
The price of AVD through Azure without a preexisting subscription will depend on the specifications chosen for each desktop user. A quote from the Azure price calculator could be significantly more than a Microsoft 365 Business Premium subscriber paying $12.50/month per user. However, some organizations already use Azure Virtual Desktop to deliver apps to their users and those are typically covered under company licensing. But customers have expressed an interest in obtaining that same application delivery via Azure Virtual Desktop "as-a-service".
This request has resulted in monthly per-user pricing for the service, effective as of January 1, 2022 – $5.50 per user per month for Apps as a service and $10 per user per month for Apps and Desktop as a service.
The following Remote Desktop clients support Azure Virtual Desktop:
Windows Desktop
Web
macOS
iOS
Android
Microsoft Store Client


Conclusion:
For businesses on the lookout for significant changes to office workflow, while protecting data and making the most of their budget, the Azure Virtual Desktop is one of the top-performing virtual desktop and app virtualization services available in the current market. With just a little bit of research or a little bit of help from your friends at CSW Solutions on how to effectively use the Microsoft Azure interface, you'll notice significant improvements to how your business operates. There is no time to waste, so get a hold of us now so you can continue to thrive in the age of the cloud.