The Unique Business Benefits of Custom Software Development
Do you know how custom software development can benefit your business?
Unlike off-the-shelf products, custom-built applications provide a tailor-made solution with limitless potential. A custom software development company can deliver a wealth of coding talent and ongoing support that most organizations don't already have without exhausting revenue. Therefore, it makes sense that half of all organizations throughout the world will outsource application development. But what are the unique benefits of custom software development? What kind of team should you be looking for?
Read on to see how to increase your company's productivity, how to match your individual needs, and then receive the best possible support as your business grows.Then we will look at five compelling reasons why choosing a credited development team to build your custom software is not only the best choice but the right one.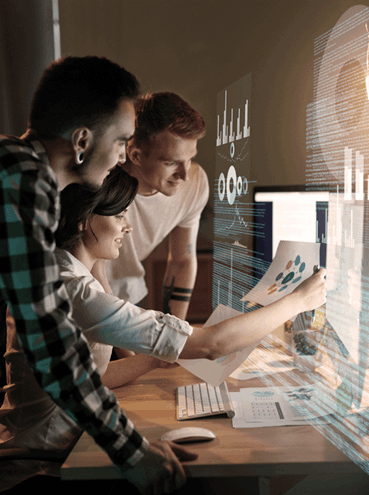 What Is Custom Software Development?
Custom software development solves a unique set of requirements instead of a general need. It produces specially made and thoughtfully planned technology solutions that often form the core of a company's IT infrastructure. The creation of unique and reliable technology solutions will involve these five stages:
Design
Creation
Testing
Deployment
Maintenance and Support
In contrast, commercial-off-the-shelf software or COTS delivers a general set of results. These standardized applications must cater to a general market and thus utilize broader brush strokes to paint the virtual canvas. That means they probably check most of the boxes but not all of them and forget about the details! On the other hand, custom software development means identifying specific designs and actions for the app to be built.
The design stage begins when a spec is created. This is reviewed and approved for next stage. Modern methods of development like Agile see clients engaged with quality coders throughout each creation phase as the app becomes fully realized. Testing cycles continue through feedback and revision until everyone is happy. The deployment stage isn't the end. It is the beginning of the maintenance and support for the application. At this point, the client and software team have created a strong rapport and issues are as easy as reaching out to a colleague.
Benefits of Hiring a Custom Software Development Firm
Large enterprises aren't the only ones that benefit from custom enterprise software development. Small to medium-size businesses have increased their IT services spending year after year to accommodate the growing need for updated software and IT services. More companies outsource more than ever as demand for the custom-built solution continues to grow.
Now that we have a better understanding of some advantages of custom software, lets take a look at the top five reasons to hire a custom software development team:
Unique Software for Unique Needs

You

know your business.
You also know how much time is wasted using antiquated software, the challenges technology could solve, and what it would take to make your company grow.
Perhaps you offer a unique service to your customers that no off-the-shelf app can manage. You've toyed with Excel or Access but don't have the expertise to make them do what you want.
But by relaying your requirements directly to a developer, you can be certain that the end product matches your vision. Nothing gets lost in translation because each stage of development has your feedback, your touches, and your approval. If something unanticipated crops up, you can introduce it into the framework of the application while it is being built. The final product is something that you know for sure will work for your business and meet your goals.

Lower Long-Term Costs

An argument for COTS is that it is cheaper than hiring a team to develop a custom solution. But is that really true?
Many fees initially start out small but the future cost of maintaining the COTS and any add-ons are never clear. Recurring fees and support charges can add hundreds if not thousands of unplanned dollars to the overall costs. Not to mention features that might be redundant or even irrelevant for your needs. Some components might not meet your individual requirements anyway. Building an application that's just for you is a smart and reliable long-term investment. There are no license fees to pay because you own the software. Since you also set the budget, costs are solely on your terms and time is on your side. There are no monthly bills or long-term contracts to use your app, just software that belongs to you.



Ownership Equals Flexibility

Many popular applications let you add your own macros and code. The ability to change existing functionality means you don't need custom development, right? No. The problem lies in ownership and specifically licensing. You never own off-the-shelf products, you lease them. So if your subscription expires or becomes too expensive to maintain, all your hard work goes with it. Using your own software means the ultimate in flexibility. Need an extra button to export sales data? No problem. Like a new API that could integrate with your reporting tools? Your development team can integrate it. You can modify as you go along and always have the final say.



Scalable Solutions

A custom-built application doesn't need to offer hundreds of features. As a business owner, you decide what the tasks are and expand your feature set as required over time. Your unique software can also combine with other technologies. It can be modified into something much bigger than originally intended and grow in line with your business requirements. One example of this is the back-end database used to store company records. Many COTS products use a limited internal database that only works on one computer or local network. A custom solution can take advantage of Cloud computing and its inherent scalability. You aren't stuck with stagnant technology. Nothing is set in stone with custom software and unlike off-the-shelf applications, your software can grow with you.



Support Directly From Developers

Have you ever tried to modify existing software and called their support desk for help? Anything outside their scope of normal issues means that a reply will be vague at best. The answer is usually that support is not available for modified versions of their software. Your custom software development firm knows you by now and they are always happy to take your call. They built the application, know the code, and will help fix your issue or add your components when or how you want them. It takes less time to find the source of the problem and then resolve it when you are working with people who know your application and your company. The result is a higher rate of productivity and compatibility. You also get to speak with a real person who understands your requirements. There's no having to explain who you are and what you do. Just log a call or ticket and the request gets handled by someone you know and trust.


Reliable Custom Software Solutions with CSW
The benefits of custom software solutions are clear. Companies get exactly what they want and need to be more productive. Their software can scale and adapt to match future requirements with support that comes directly from the people who designed and built it for them.
The question is: which custom software development company can you rely on to build and support your app?
CSW Solutions offers a tailor-made experience with partnership at the core. Our team of expert coders has a wealth of expertise in many technologies, from .NET development services to Cloud services; we build what our customers need and support them. That includes mobile development, business intelligence, and CMS integration.
Get in touch today to see why we're a Microsoft Gold-certified Partner specializing in Azure! Don't settle for an inferior off-the-shelf product for your retail software development or any other industry, and choose CSW for your reliable custom software development partner.