How to Get Your Cloud Strategy Right
Digital business infrastructure has become more complex. Pioneering companies are digitizing their operations to compete with cloud-based startups. There are ways to get your cloud strategy right and learn what leaders know to do before, during, and after their digital transformation.
Industry leaders are working hard to compete with digital upstarts that develop their business exclusively in the cloud. Business infrastructure has become more complex, and to keep up to date, companies are digitizing their operations—looking for agility and insights from data and analytics to improve marketability and maximize potential. 69% of businesses say that 60% or more of their organizations' infrastructure and applications will be in the cloud in two years. The independent web has made a massive return with cloud-based business and more than ever, there must be a relationship and sense of intimacy between the consumer and your content. To do that, businesses are turning to data and data is the driver of digital transformation.
IT business partners have had to demonstrate the ROI of switching from "owning" to "renting" infrastructure. It's now critical to monitor performance across different cloud frameworks with tools that collect and correlate data from every location. Leaders understand there is a before, during, and after migration strategy for making the switch successful.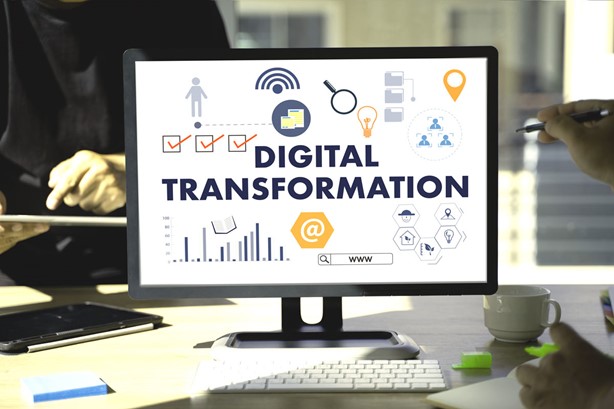 Today, we'll talk about the steps you can take to create the right strategy for you and your business no matter what industry your business is in, so you don't get left behind.


Partnership
The first thing to note is that there is no cookie-cutter strategy for digital transformation. Some are very top-down business-driven companies, some are driven through internal insight, and others are more customer-driven. Therefore, the first step is to prepare for the cloud migration by assessing the current capabilities of your business with the right cloud partner. Your partner is integral to your journey and its success so they must be able to implement a philosophy of transparency, collaboration, trust, and communication. You'll want to work with someone who will take the time to know your team, your objectives, and your goals. The right partner will not only integrate into your transformation team to help your organization thrive in the cloud but they will also be there after the transformation to ensure your company understands how to make the most of your tools and services.


Leadership and Scope
The next step will be to create a roadmap with your partner and develop a cloud strategy focused on the needs of your customer or internal audience or need for modernization or innovation goals. This is beyond creating customized technology for a new environment or adding a security capability, you're moving your entire company to a modern era. This requires a huge element of leadership and that must come from breaking down boundaries and mining details within the network of your team to ensure total cooperation and adaptation. When you take an incremental approach to your transformation, you'll be able to prioritize all the areas that need improvement, communicate effectively with the right people to implement the strategy correctly, and then easily take each step toward meeting all the short and long-term goals with minimal chance of failure.


Technology and Resources
After your path and leadership have been secured, you'll want to target the technologies and resources that are necessary for your transformation to succeed. Some companies need data analytics-driven tools, while others will prefer AI or IoT transformation drivers. Cloud service providers can and do integrate many of these same tools within their services framework but as we have written about before, some provide more technology that will suit the end goal of your organization for a more long-term investment solution. There are many avenues to explore when it comes to the technology required for your transformation and the pandemic has only exacerbated the market, with new companies popping up everywhere that specialize in this very thing. It comes down to who you can trust and the transparency of your invested staff and their time.


Invest in Your Future
It's not far from anyone's mind when digital transformation is on the mind and that's because a reasonable investment to support all of these efforts is absolutely necessary. To make the process more tangible, you need resources you can trust with technically driven initiatives through strategic and dedicated funding for a successful move to the modern era. This brings into consideration the culture of your company and how your budget can be utilized to integrate the strengths of your transformation partner with enduring quality and security for your data and the future.


Empower Your Team
The future will also include the ongoing efforts to educate and empower your internal staff to make the most of the new technologies and the ever-expanding suite of tools available to them after your transformation. This new ecosystem has the potential to be the kick-start your business needs to enliven a new era of productivity and innovation for any team.


Digital transformation is an ever-evolving process with new technologies emerging all the time to keep up with the rapidity of change in the digital age; whether due to vulnerabilities, world events, or just the revolving door of customer expectations. No one wants to be caught off-guard again or unprotected or left behind. That's why it is so important to get your cloud strategy right, so your legacy can be secured!
Schedule a free consultation
As a Gold-certified Microsoft Partner, you can trust us with your business services. You can start by getting in touch to organize a free consultation to see how we can exceed your software and web service needs!