Microsoft Teams : A Hybrid Meeting & Work Solution
The shift to remote work has changed how, when, and where we work. Extreme flexibility and the hybrid work model define the post-pandemic workplace. But this new era of adaptability in space and mobility isn't as simple as combining the old reality of workplace security with the newer reality of remote and mobile exchange in communications and data access.
We have learned more about what motivates us, about what drives us to succeed, about what businesses need, and what truly counts as an essential role. As we've learned in the hybrid cloud, the blend of both the best in on-premises with the functionality of virtualized innovation means that we are at the precipice of something better and bigger than what came before.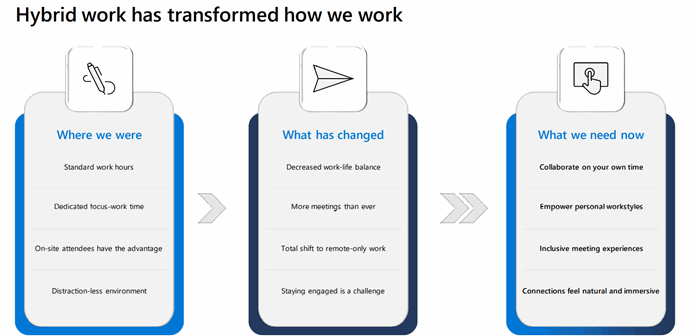 A Perfect Hybrid Meeting Solution

Innovations with Microsoft Teams and Office have upped the ante for employees who need tools for success in the new hybrid workplace.
New features that enhance and encourage flexibility and production include chat, live reactions, and Whiteboard. Intelligent in-office cameras can produce multiple video streams, and AI powered speakers can track who is speaking. Companion mode grants mobile users more access to Teams meetings—increasing effectiveness of remote users. The culture of hybrid work is here to stay, and the innovations Microsoft Teams is making offers employees needed choice and flexibility.
As companies like Microsoft continue to create new ways to help re-imagine the flow of work to better accommodate this new hybrid work reality, tools like Microsoft Teams Meetings, Microsoft Teams Rooms with Surface Hub, and the Teams Platform enable a comprehensive end-to-end hybrid meetings solution. They've even created a new version aimed at supporting small businesses called, Essentials. It's separate from all their other offerings and falls somewhere between the free Teams plan and the features that come with a Microsoft 365 subscription.
Teams Essentials costs $4 per user per month. It includes unlimited group meetings for up to 30 hours and as many as 300 participants, compared with a 60-minute time limit and a maximum of 100 participants on the free plan. Users also get 10GB of cloud storage — twice as much as those on the free tier — and integration with Outlook and Google calendars. Meetings, chats, calls, and files are all encrypted. Users can also send meeting invites to someone who doesn't have a Teams account via email.
It's a little less expensive than Microsoft 365 Business Basic, which costs $6/month per user but the savings can add up. That plan's features include meeting transcripts, real-time translations, mobile versions of Office apps, and 1TB of cloud storage per person.
The culture of hybrid work is the new growth opportunity to give employees choice and flexibility—empowering organizations to achieve more. There is no doubt that Microsoft has been working to make the hybrid model easier and more accessible for businesses!
If you want to learn more about these and other hybrid cloud-based and software development services solutions, you can reach out to your friends at CSW Solutions any time. Our gold-certified team of cloud and software experts are capable of preparing, migrating, and supporting your systems and infrastructure to make the most of the hybrid age. Reach out to us here or subscribe to the CSW Newsletter and become an insider!