5 Software Cost Reduction & Development Strategy Tips
As 2022 begins and budget and forecast meetings are underway, the majority of businesses may already be in the midst of their digital transformation strategy. Due to the complex nature of the digital space and fluctuating demand for flexibility in growth and stability, businesses continue to expand their resources to accommodate the need for custom software development and cloud services to stay competitive.
Based on a Gartners' report, IT budgets will exceed over $4 trillion worldwide. But when communications have come to only rely on hybrid or remote workforces along with projecting future worth and investment, it is more important than ever to think strategically early on to get a grip and optimize IT projects. Mitigating costs while reducing unwanted spending are vital to ensure consistent levels of success or growth as another unpredictable year looms before us.
How to Reduce Software Development Costs
In this post, we will share 5 insider tips on how you can reduce your custom software costs without compromising on quality. These tips are based on our team's experience in providing IT Services over the last 16+ years. We have been helping companies optimize operational processes and realize their goals while keeping costs low without compromising on the integrity of their mission.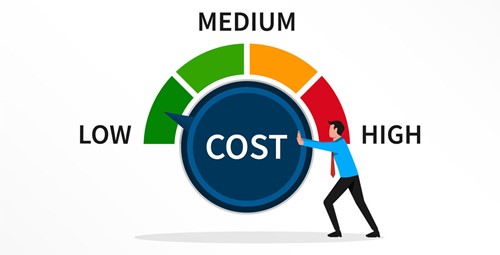 1. Clear Project Requirements
When requirements are clear and concise, the resulting estimates will naturally be more accurate. But that is easier said than done. Before starting a custom software development project, it is important to make sure that your team has a good grasp of the needs and capabilities of your business and infrastructure. The more prepared you are to face your IT team with requirements, the easier it will be to spot any inconsistencies early on. Sometimes, the best road to preparedness requires a Discovery or requirements gathering phase that is done together with your chosen vendor and may include a business analyst to help you with the documentation. These simple steps will most certainly reduce potential risks to both your custom software development vendor and your business, while also providing better upfront visibility.


2. Using Cloud Services
Cloud solutions offer major benefits in scalability and cost-effective opportunities in modernizing operations and infrastructure. We're big fans of the cloud, as we've noted in other posts about cloud migration benefits and hybrid cloud! The bottom line here is that migrating to a cloud ecosystem such as Azure cloud migration means you're already set up for a world of possibility without the cost! As more and more businesses migrate to the cloud, the market has grown to overwhelming proportions along with costs and redundancy. There can always be hidden costs associated with resources that are either night optimized for specific needs in your company or never even used. Therefore, by reviewing your expenditure through cloud strategy, you could identify mismanaged resources and eliminate them to reserve capacity for higher discounts. These are only some of the ways to reduce your overall cloud spending. If you want to learn more or some friendly assistance with your cost management in the cloud, it is always beneficial to reach out to your Azure cloud migration provider.


3. The Right Team
Whether it's a custom enterprise software development project or your very own cloud solutions provider, finding the right team is critical for communication and cost management. Even with a solid internal IT team, hiring an outside specialist for a project will bring an additional point of view and expertise that your team might not have. In the event that you are considering an external IT team for software or cloud services, verification of services and availability, experience, and integrity are vital to the reliability of your results. It is never too late to evaluate the team you trust with your network of resources and valuable infrastructure. The right team means that you can rest easy with an IT budget that works for you, for the right reasons.


4. Prioritize UI/UX
The company stakeholders usually have big plans and limitless ideas for features and functionalities when it comes to software development projects. It is always best to start with a phased approach that begins with the most essential functions and requirements. After that, it is essential to prioritize usability and core functionality before scope add-ons and anything else that could possibly fall into the dreaded project creep! A custom software solution with too many unnecessary features will significantly increase development and maintenance costs. This is one of many reasons for strategy and discovery, the last thing you need is for a project to go sideways for something that your end-user might never use. By focusing on the must-haves, you can speed up delivery and start bringing in your return on investment faster.


5. Software Automation
The utilization of software automation means that manual processes, extra steps, and redundant tasks are reduced to the minimum. There is nothing worse than the wasted time when it comes to business and redundancy can be alleviated or even eliminated. Automation can be done via 3rd-party tools or scripts and can be incorporated into every stage of a project. For example, consider the automated testing procedures for your software projects to ensure quality or using pipelines to automate product releases. While initially, the automation setup may a little longer, the resulting automated tasks can be configured to re-run as often as they are needed. Automation should be one of the first places software and IT teams look into as part of a strategy in cutting costs because they are best used in managing a custom software solution that was built with self-sufficiency and cost-effective engineering in mind.


The focus on digital transformation, cloud migration, and custom software solutions are key to a new year where developing a strategy that will continue to work for you. Even when the world shuts down, your new technologies won't stop working for you and your team and that means your costs will sustain any changes that come your way. It is never easy to determine the exact investment for a software project. However, we've shared five very valuable tips for you that just might help you realize that custom software development is more affordable than you thought. For more, you can always reach out to your friends at CSW Solutions, we're not only a Cloud Solutions Provider you can trust but we will believe in you no matter what!


Schedule a free consultation
As a Gold-certified Microsoft Partner, you can trust us with your business services. You can start by getting in touch to organize a free consultation to see how we can exceed your software and web service needs!